THINKING OF BUYING? LET US GUIDE YOU HOME


WELL, WE'RE NOT IN KANSAS ANYMORE, TOTO!
Buying a home Midlothian, Chesterfield, and Greater Richmond in today's market is a whole new ball game, and you probably have a few questions. How can you make your offer stand out if there are multiple offers? Are multiple offers still a thing? What's an appraisal gap anyway? What about a home inspection? Do I have to sign ALL OF THAT paperwork?

Successful home buyers have a game plan, so let's make one! Ashton Row's brokers can meet in person or chat by zoom; we'll get to know your wants & needs, explain up-to-the-minute market conditions, and guide you through how to make the best offer possible for your unique situation. We'll make sure you understand the process, all of the documents, how the financing works & what to look out for when touring homes. Let's get you started on the path to home ownership!
Why Buyers Choose The Sinnett Group at Ashton Row Realty
Today, you can see hundreds of homes on the internet – but what is the best way to turn those virtual tours into reality? The Sinnett Group will guide you through the many difficult decisions involved in buying a home. A new home may likely be your family's biggest purchase – and biggest investment. Buying the right home involves much more than just finding a house that you like!
Locate the Right Home for You
We provide home buyers with full access to all of the homes available in the Richmond area, often before they are published on the internet. To help you sort through all of those homes on the market, we will work with you to set up personalized search criteria – including specific neighborhoods you like, price range, numbers of bedrooms and bathrooms, or even homes on golf courses! Just contact us,
and we can get started. Or, feel free to start a property search
on your own right now. You can also create a portfolio
for yourself, and save your own personal searches to review whenever you'd like.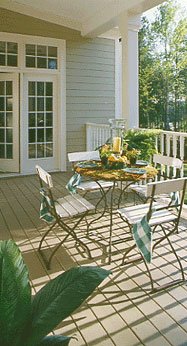 Find the Best Value for Your Money
Is that house priced right? We monitor changes in the local housing market every day, and we can help you determine if a particular property is a good value for your money. And when you are ready to look at homes, The Sinnett Group will coordinate tours at times convenient to you.
When the right home comes along, in this market it's best to be ready to act! Buyers working with the Sinnett Group are able to put forth a strong offer – and quickly. That's because we help you take care of your financial concerns and mortgage pre-qualification before touring properties. This puts you in a great position as a strong buyer.
Represent Your Best Interests
One of the most important functions of tThe Sinnett Group is to represent your best interests when negotiating the terms of an offer. Brent and Amy will keep the focus on your needs and interests as we help you work through all of the details with a Seller – from the initial purchase offer to property inspections to the closing.
Sign With Confidence
Today's contracts are full of complicated language! Understanding the terms of your contract is very important to your positive purchase experience. Brent and Amy Sinnett
offer the full benefit of their real estate knowledge and experience, and will take as much time as you need to review and understand every paragraph before you sign.
Let us represent your best interests, and help you to find your next home! Tell us about your dream house, or even just ask a question:
Brent Sinnett
Amy Sinnett
(804) 651-8604 (804)937-9350
---
Midlothian,

Powhatan, Chesterfield and Richmond real estate sales and new homes for sale listed and listings in Virginia - Brent Sinnett & Amy Zolad, REALTORS®

of The Sinnett Group and Ashton Row Realty. The Grove, Charter Colony, Bexley, Loch Braemar, Founders Bridge, Birkdale, Walton Park, Tarrington, Salisbury, QueensMill, Queens Mill 23113, 23114, 23236, 23832